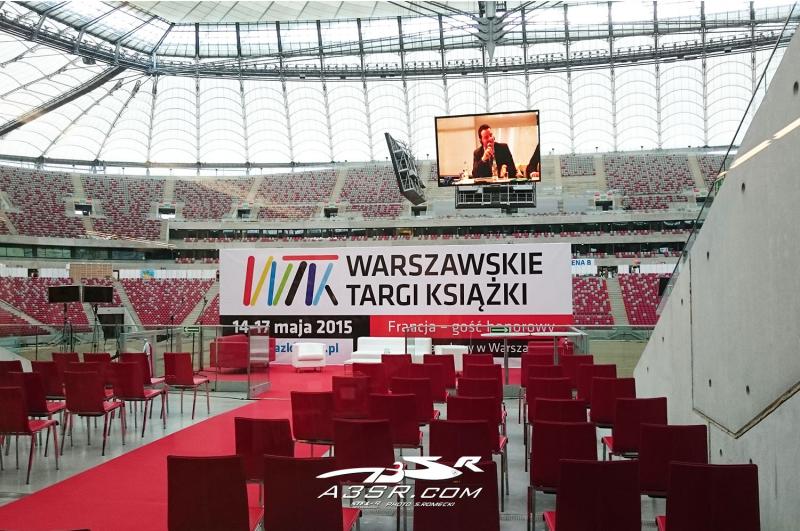 Update 23.05.15
Animals & Cars: From Paris to Warsaw!
From May 14th to 17th, Stefan presented his book Animals&Cars in Warsaw during the biggest meeting about books from Poland, Targi Ksiazki.
"As a Polish racing driver, it's very importantto be there and present my book. After the exhibition in the Roi Doré Galery in Paris, it's great to show
Animals
& Cars in Warsaw durring the biggest meeting about books of the country !"
So Stefan talked with Polish medias about it:
With
Andrzej
Mielczarek
(
@

AMielcz
) from
Eurosport
and
TVP
Gdańsk.
Check this video of the interview with
Maciej
Zientarski. Stefan at
4min13 :
Past articles:
16.03.2015 / DESIGN: Opening Event at the Roi Doré Gallery
From February 26th to 14 Mars 2015, you had the opportunity to discover the very first exhibition of Stefan Romecki - ANIMALS AND CARS: Passion of the drawing and the motorsport - in Paris.
"That was an exceptional experience, where we learnt a lot. We work from now on on the next step"
During the exhibition, Stefan worked on a new graphical design by realizing the logo of the Cosmopolitan association Village /

Cosmo Ville

.
27.02.2015 / Opening Event at the Roi Doré Gallery
"Animals and Cars - Passion for drawing and Motorsport" is the exhibition which it is necessary to see if you wish to discover the secrets of the work Stefan Romecki's Animals&Cars.
The Opening event which took place on February 26th, 2015 in the Roi Doré Gallery in Paris was a beautiful one success and one festive evening in this day before the Stefan Romecki's birthday. Every A3SR members were here (

Vicky Romecki

et

Robin Richard

).
" Thanks to all those who were present yesterday evening in the Opening Event of the exhibition, thanks to the team of the Gallery Roi Doré, to my family and to all those who support me.
In the same time it's the outcome of the conception of my work and a wonderful birthday present "
If you wish to discover this exhibition, you've got the time until March 14th 2015 !
6 Rue Sainte Anastase 75003 Paris - France
For more actualities about the gallery, please visit their wabsite: www.roidore.com
25.02.2015 / Expo: Animals And Cars: Passion du dessin et des courses automobiles
Pour son anniversaire, Stefan Romecki vous invite à venir découvrir l'exposition dédié à son ouvrage "Animals&Cars" sorti en Septembre dernier.
Le rendez-vous est donnée à la galerie Roi Doré à Paris, du 27 Février au 14 Mars 2015.
ANIMALS & CARS - Passion du dessin et des courses automobiles / mettra en avant le côté artistique de Stefan avec les travaux réalisés à la main pour son ouvrage, accompagné de maquettes et ainsi que quelques surprises.
Galerie Roi Doré
6, rue Sainte Anastase 75003 Paris
du mardi au vendredi de 12h00 à 19h00, le samedi de 13h00 à 20h00
ENTREE LIBRE
-----
03.09.2014 / Des années de travail en parallèle...
Ce lundi 1er septembre 2014, Stefan s'est rendu au Mans pour faire sa rentrée scolaire, lui aussi.
Et c'est plus exactement dans les ateliers d'Yves Courage qu'il s'est rendu pour y présenter son livre.
Pas de biographie ni de longue lecture à prévoir, mais plutôt du plaisir visuel si vous appréciez l'Art et les Voitures...et c'est ce lien exceptionnel entre les deux domaines que Stefan a su créer.
Yves Courage, qui a signé la préface de cet ouvrage a donc eu la primeur de pouvoir le déguster.
Stefan Romecki:
"C'est un véritable honneur pour moi d'avoir la préface de mon premier livre signé par la Légende du sport automobile international qu'est Yves Courage.
Il aura fallu beaucoup de temps, d'efforts, de sacrifices et surmonter de nombreux obstacles pour parvenir à ce résultat.
Et finalement c'est arrivé, ce lundi-là!"
Très rapidement vous pourrez retrouver "Animals & Cars" de Stefan Romecki dans la boutique du site A3SR.com.
Et merci de suivre fidèlement nos actualités à ce sujet car il se pourrait bien que vous ayez l'occasion de rencontrer prochainement Yves Courage et Stefan pour une séance de dédicace près de chez vous...
L'A3SR soutient ce projet depuis le départ et chaque achat du livre est un don fait à l'Association avec comme but d'aider Stefan à atteindre le plus haut niveau du sport automobile mondial.
XX